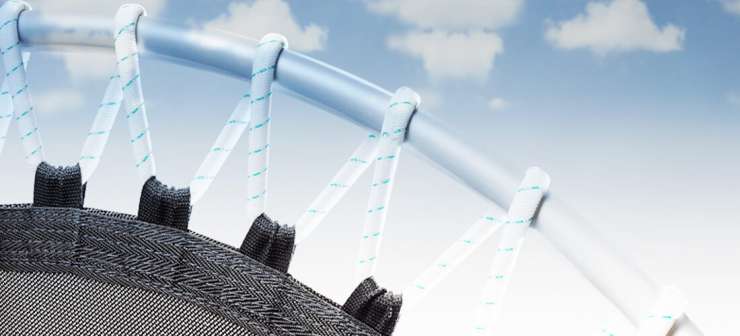 Rebounders with rubber cables
Trimilin rebounders – soft and stretchable
Trimilin is equipped with specially coated, very durable rubber cable. Rubber cable is softer than steel. It is more stretchable and the mat goes down a longer way until it reaches the bottom of the movement. This brings about a slower swinging frequency. Especially recommended for slow, finely dosed swinging. For example when joints or the spine are very sensitive.

Trimilin offers 2 types of rubber cable systems
Trimilin has also developed various types of rubber cables in addition to the steel spring devices. Standard models with a single rubber cable and models with patented VARIO system and 12 adjustable rubber cables.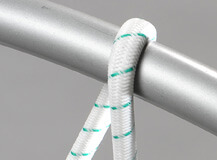 Mini trampolines with a single rubber cable:
Trimilin-miniswing
Trimilin-swing
Trimilin-superswing
Trimilin-junior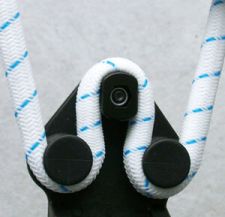 Mini trampolines with VARIO rubber cables:
Trimilin-vario
Trimilin-vivo
Trimilin-jump
Advantages of Trimilin rebounders with one single rubber cable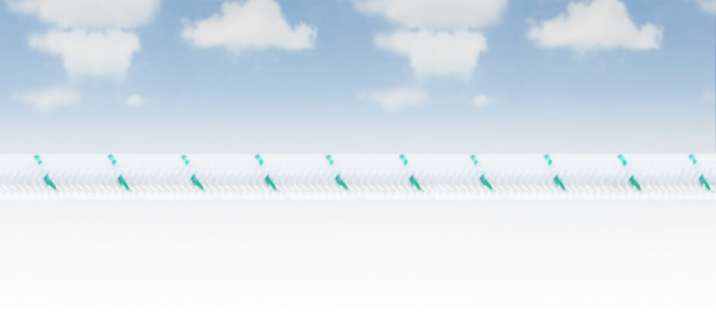 The lower the body weight, the more we recommend mini trampolines with this type of suspension, like for small children or lightweight adults. In contrast to conventional rubber rings which are only wrapped in a thin textile coating, Trimilin cables are coated with multiple layers of highly elastic synthetic fibers for unparalleled longevity. Its superior quality characteristic is the high extensibility and elasticity, which is the secret behind the superb Trimilin bounce quality: Active-dynamic rebound and very high fun factor.
Quality benefits of Trimilin rubber cables:
more stretchable
activ-dynamic rebound
super-soft suspension
for very sensitive spine and joints
for low body weight and children
softness level 4 up to 6
joyful swinging
easy rebounding
Trimilin-junior
Space saving and very light. With its frame height of only 22 cm this rebounder especially well suited for children.
Diameter: 87 cm / Softness level 3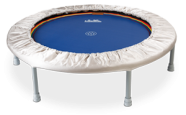 Trimilin-miniswing
Same technology as on Trimilin-swing but using less space. Smaller diameter of 102 cm.
Softness level 4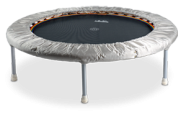 Trimilin-swing
Ideal for swinging and jumping. Suitable rebounder for the entire family from toddlers to adults. Diameter 120 cm.
Softness level 5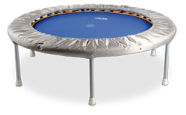 Trimilin-superswing
Features an extremely gentle, super-soft suspension for easy swinging and light jumping. Diameter 120 cm.
Softness level 6
Technical details for the 4 standard models
Trimilin rebounders with a single rubber cable

Trimilin rebounders with VARIO system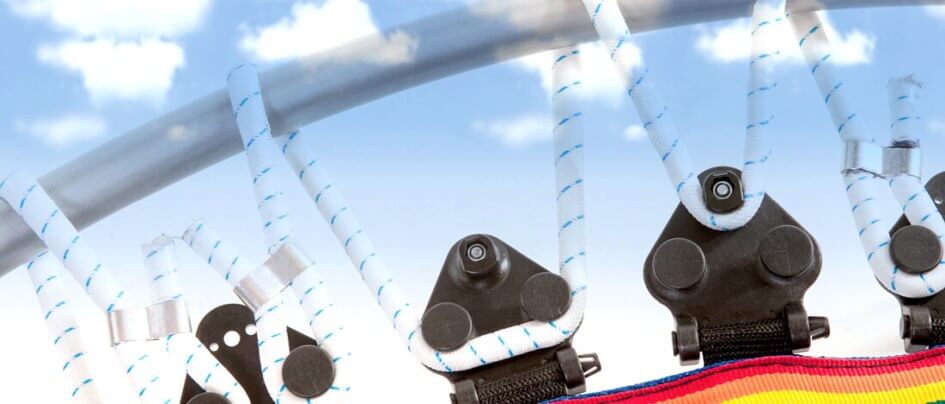 The innovative suspension system VARIO offers the possibility to adjust the rubber cable tension of the jumping mat. You can adjust 12 individual rubber cables so that the elastic tension becomes stronger or softer as required. There ist no need to replace cables or rubber rings.


VARIO rubber cable advantages:
4 different tensioning options for changing the degree of softness
Active-dynamic rebound
Specially coated, very durable rubber cables
Provides superb bounce quality
Attractive colours
Rebounder with Vario rubber cable. Frame cover included
Trimilin-vario 100, Trimilin-vario 120, Trimilin-vario 120-35 with VARIO rubber cable in white.
Changing the tension of the Trimilin-vario
You can increase or reduce the tension of the elastic mat with the tensioning tool. So you can easily modify the routing of the Vario cable In just a few simple steps.