Trimilin-swing
The rebounder for active-dynamic rebound and very high fun factor

Trimilin-swing suitable rebounder for the whole family from toddlers to adults. Combines a soft landing with active-dynamic rebound and a high fun factor. Due to its large diameter of 120 cm it is also ideally suited for exercises lying down on the back or together with a partner.


Ideal for swinging and jumping
Large diameter
Ideal for exercises together with a partner
Suitable for the entire family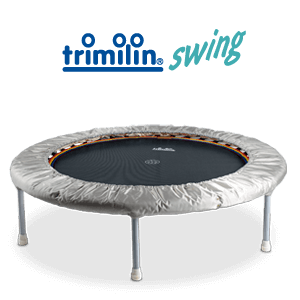 Technical data Trimilin-swing
Elastic mat in black or blue
Diameter: 120 cm
Height upper edge frame: 29 cm
Weight of the trampoline: 9 kg
Recommended body weight of approx. max. 100 kg
Softness level 5
Trimilin rubber cable
Equipped with specially coated, very durable rubber cable. Its superior quality characteristic is the high extensibility and elasticity, which is the secret behind the superb Trimilin bounce quality: Active-dynamic rebound and very high fun factor.
Joint exercises
soft swinging and moving on the rebounder activates and mobilizes joints and spine.
Partner exercises
Ideal for exercises in twos, relaxing for shoulders and back
Ideal for children
Soft landing with activ-dynamic rebound and a high fun factor
Rebounders with steel springs

| | | | |
| --- | --- | --- | --- |
| | | | |
| | Trimilin-med | Trimilin-sport | Trimilin-pro |