Original Trimilin Accessories
Convenient accessory for Trimilin rebounders
Useful and practical

Support bar
Carrying bag
Variable leg heigths
Folding legs
Trimilin spring covers

Support bar for Trimilin rebounders 102 cm and 120 cm
Facilitates training on the Trimilin, especially for elderly people. Available for all models except Trimilin-junior.

Carrying bag for Trimilin rebounders
Suits all models except Trimilin-swing and Trimilin-superswing. For safe storage and transport when you travel with your Trimilin.

Variable leg heights for Trimilin rebounders
The screwed on legs for Trimilin are available in different lengths up to a max. frame height of 40 cm. For even more training and therapy variants, like in case of higher body weight or for wheelchair users.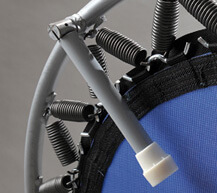 Folding legs for Trimilin rebounders
All models except Trimilin-junior and Trimilin-sport are available with folding legs instead of screwed on legs. The reliable folding mechanism provides for easy storage of your Trimilin behind the door, under your bed or in the car boot.