Rebounder Trimilin-Vario
Trimilin models with VARIO rubber cables – variable degree of softness
Trimilin is equipped with specially coated, very durable rubber cable. Its superior quality characteristic is the high extensibility and elasticity, which is the secret behind the superb Trimilin bounce quality: Active-dynamic rebound and very high fun factor.
Trimilin-Vario models
Trimilin-Vario 100
Trimilin-Vario 120
Trimilin-Vario 120-35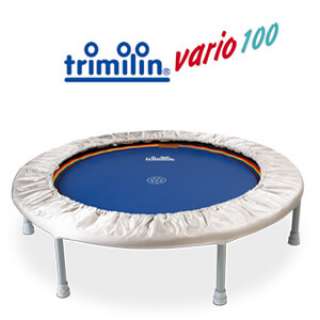 Vario-100
Fun-Jogging
With just 1 meter in diameter it provides a suspension just sufficiently tight to support a normal jogging frequency, while the special rubber cable is a bit softer than the springs suspension of the Trimilin-med.
Elastic mat either in black or in blue
Softness level 4


Dimensions: Ø 102 cm, 8 kg, height: 26 cm
Vario-120
Ideal for gentle bouncing and jumping
Suitable for the entire family from toddlers to adults.
Combines a soft landing with activedynamic rebound and a high fun factor. With its large diameter of 120 cm it is also ideally suited for partner exercises.
Elastic mat either in black or in blue
Softness level 5
Dimensions: Ø 120 cm, 9 kg, height: 29 cm
Vario-120-35

For especially sensitive spines or joints
Features an extremely gentle, super-soft rubber cable for soft and gentle rebounding or light jumping. The extremely flexible and yielding suspension provides a highly intense training for the ankle joints and surrounding muscles.
Elastic mat either in black or in blue
Softness level 6
Dimensions: Ø 120 cm, 9 kg, height: 35 cm