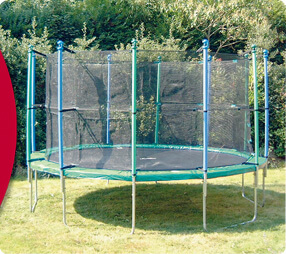 Trimilin-fun
Garden trampolines – fun for the entire family
Trimilin fun is ideal für everyone. It comes in a handy carton. The frame is made of galvanized steel and is easily assembled without tools. The spring-tension of a round trampoline is larger at the edge than in the middle. Therefore it always bounces you back into the middle.
Accessories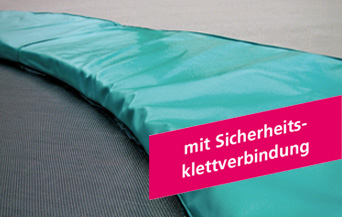 Garden trampoline Trimilin-fun: Safety based on velcro fastener
The velcro connection prevents from injury in the springs of the gardentrampoline.

It absorbs your bounces softly and it therefore easy on your joints and back
It stimulates bloodcirculation and metabolism
It helps reduce excessive fat as well as lymphatic build up
It enhances healthy growth of bone and muscle tissue
It can prevent osteoporosis
It trains coordination as well as the sense of balance
Best Quality
Trimilin-fun 37 and 43 with 6 U-legs = 12 legs for frame support for best possible frame stability.
The cover and mat are connected for maximal safety and best possible protection of springs and frame.
Zinc coating inside and outside for longevity.

Available with Safety-net, anchor and ladder for safer stand and use of the gardentrampoline.