Trimilin-fun garden trampolines
Fun and health for the whole family
Trimilin-fun is ideal for everyone. It comes in a handy carton. The frame is made of galvanized steel and is easily assembled without tools. The spring-tension of a round trampoline is larger at the edge than in the middle. Therefore it always bounces you back into the middle.

It absorbs your bounces softly and it therefore easy on your joints and back
It stimulates bloodcirculation and metabolism
It helps reduce excessive fat as well as lymphatic build up
It enhances healthy growth of bone and muscle tissue
It can prevent osteoporosis
It trains coordination as well as the sense of balance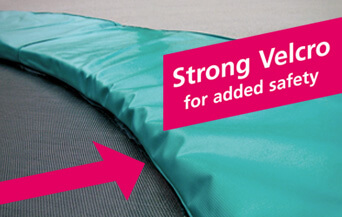 Velcro connection Trimilin-fun
Added safety thanks to the Velcro connection between the edge and trampoline mat. This stops hands and feet getting caught in the springs.

Best quality and clever details
Trimilin-fun 37 and 43 are not limited to four, as is normally the case, but six u-tubes with 12 support legs for maximum stability. The strong Velcro connection between the padding and trampoline prevent a gap forming between the mat and edge while the trampoline is in use. This protects hands and feet from injury during jumping.

Steel tubes electro-galvanised on the inside and outside offer long -lasting corrosion protection. Due to the round shape of the Trimilin, the spring tension at the edge is greater than in the middle, meaning you are always pushed back into the middle of the trampoline.