Rebounder Trimilin-med
The rebounder with soft and highly elastic special springs
Trimilin-med is recommanded for intensiv fitness and endurance training. Pleasently gentle to the spine and joints. At the same time with very dynamic lift. Perfect mini trampoline for physiotherapy and rehabilitation as well as for endurance training and running.
Endurance and fitness training
Mukoviszidosis
Physiotherapy
Rehabilitation after surgery
Therapy for children with ADHD
Very dynamic lift
Plesantly gentle to the spine and joints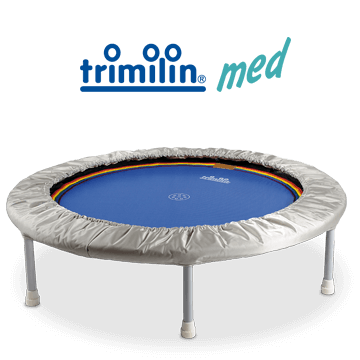 Technical data Trimilin-med
Colour of the elastic mat black or blue
36 springs
Recom. for a body weight of approx.*. 100 kg
Diameter: 102 cm
Height upper edge frame: 24 cm
Weight of the rebounder: 10 kg
Softness level 3
Available with screw on legs or
with fold-up legs
Rebounder Trimilin-med - the allrounder for therapy and fitness
The highly dynamic soft rebound tension of the Trimilin-med makes it particularly suitable for the therapy of children and adolescents with cystic fibrosis and ADHD diagnosis.
In physiotherapy it not only serves the stabilization of the ankle, knee and hip joints, but also systematically builds up atrophied leg or back muscles after surgery. The suspension is very gentle, but not too soft. For therapeutic applications it provides the necessary stability and security.
Rebounders with rubber cables

Trimilin-junior Trimilin-miniswing Trimilin-swing Trimilin-superswing