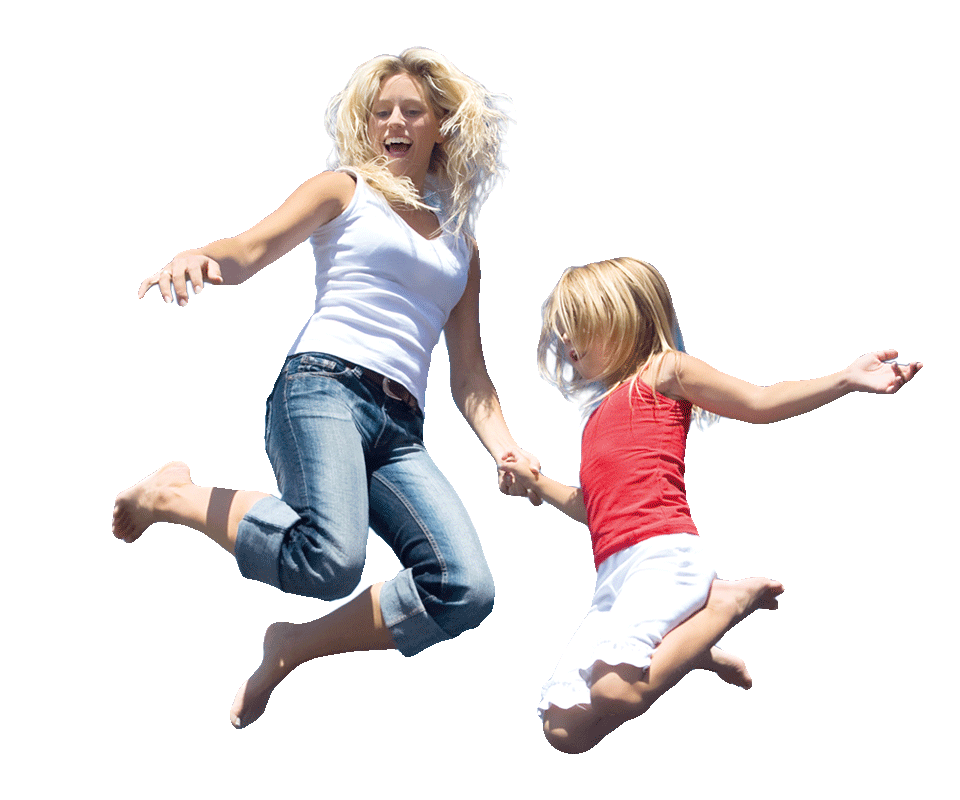 Trimilin rebounders and garden trampolines
Trampolines for health, fitness and vitality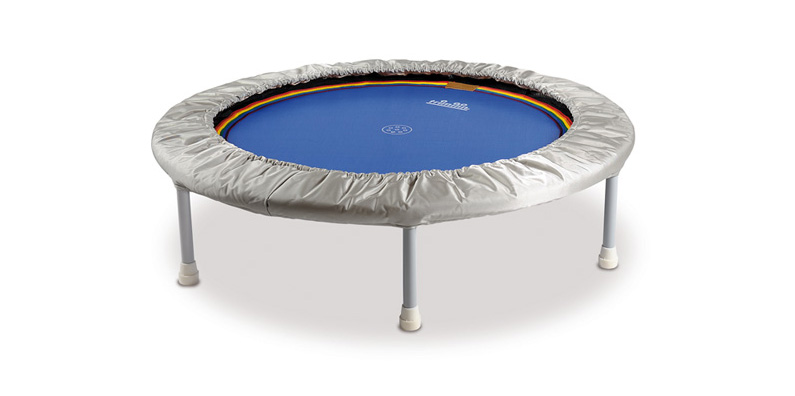 Trampoline training knows no age!
Holistic training with fun - for children and adults.
Trimilin mini trampolines are ideal training equipment for all ages. Even for those who sit a lot and do little or no sport. Trampoline swinging is particularly easy on the joints and is one of the most effective sports. It trains about 400 muscles and at the same time the cardiovascular system, bones, joints and sense of balance. The holistic fitness training gets the lymph moving.
For a strong immune system! This will keep you fit and healthy
A few minutes of gentle swinging on the mini trampoline
promotes fat burning
activates heart and lymphatic circulation
strengthens the immune system
stimulates the lymphatic system
prevents osteoporosis
strengthens muscles and connective tissue
Trimilin Rebounder
Rubber or metal suspension - which do you prefer?
Trimilin offers a choice between two high-quality suspension systems for rebounders
Heymans is the only manufacturer worldwide to offer a choice between two high-quality suspension systems for mini trampolines. Trimilin steel spring trampolines are extremely durable and highly elastic - for fitness, cardio and figure training that is gentle on the joints. The rubber cable trampolines are equipped with softer and very stretchable rubber cables. They are mainly suitable for slow and gentle swinging movements. Whether steel spring or rubber cable suspension - both suspension systems are particularly easy on the joints and back. The individually adjustable suspension of the VARIO trampolines offers a unique comfort among the Trimilin rubber cable equipment. Our trampoline selection guide will lead you step by step to the model that suits you best.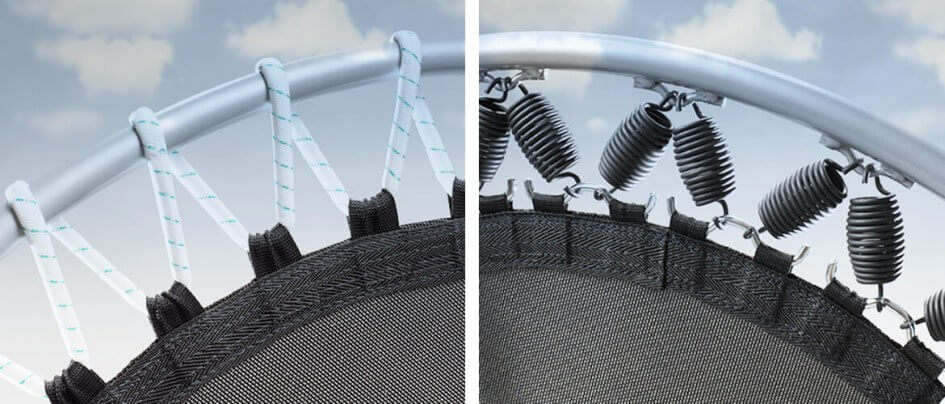 Patented VARIO technology
Simply adjust the tension of the VARIO rubber cables yourself
One for all - the rubber cable trampoline for running, swinging or jumping! The absolute highlight in the Trimilin trampoline series is the patented VARIO system of the rubber cable equipment. This allows you to adjust the rubber cable suspension tighter or softer as you wish, without having to change rubber cables. The tension of the jumping mat is adjusted in just a few steps, depending on the application. This allows people of different weights to exercise on the mini trampoline. A Vario trampoline is suitable for various applications at the same time: running, walking, swinging, cardio, power jumping, etc.... One for everything!
Rubber cables with VARIO system
Fit and lively with the Trimilin trampoline
Swinging on the rebounder makes fun and good mood at any age. It is easy to learn for children, women and men of all ages. With simple and more complex movements the whole body is challenged and mobility is enhanced. Trimilin trampolines are especially gentle on the back and joints and are used for private training, in fitness studios or in rehabilitation. Whether for endurance, cardio training, overweight, pelvic floor muscles or for rehabilitation. Mini trampolines are ideal training devices also for those who do few or no sports. The indoor trampoline is also very popular as a trampoline for children, for example in cases of overweight, ADS, ADHD or mucoviscidosis.
Rebounder selection aid
Select the right model in two easy steps