Trimilin premium-quality rebounders
The Trimilin company
In over 35 years, Trimilin gained a lot of know-how and experience with the improvement of jumping properties, workmanship and durability. Today, the product name Trimilin stands for outstanding quality and functionality in Europe and throughout the world with an excellent price/performance ratio. The variety of available models is globally unique.
Trimilin quality features:
High quality workmanship

Variety of products

Quality and safeness

Quality management

Know-How

Excellent price/performance ratio

German TÜV certified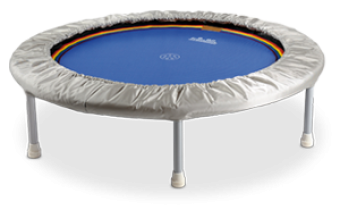 Trimilin - a high quality brand from Germany
In 1979, the founder of the company, Joachim Heymans introduced the first mini-trampoline in Germany. No one had ever seen such a device, and it was initially regarded as a child's toy. However, in the following years, it became famous throughout Europe. Not as a toy, but as an ingeniously simple and at the same time highly effective training device.
For fitness training, health training and rehabilitation. And that for people of all ages, especially suited for those who are not accustomed to regular sports activities for time reasons or for example due to health handicaps like joint and back complaints.
More than 35 years of developement and experience made trimilin to one of the leading companies in Europe. You will find a huge variety of trampoline models in high quality for indoor and outdoor use.