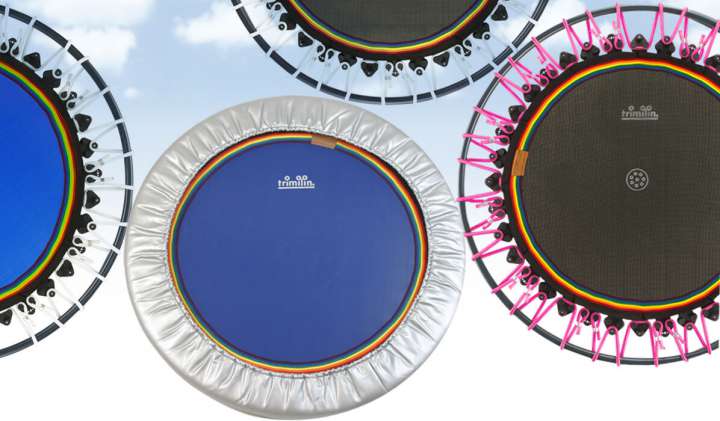 Trimilin rebounder for health, fitness and vitality
The favourite fitness device for all ages

What are mini trampolines used for?
cardiovascular training, fat reduction, stamina and strength training
for therapy, mucoviscidosis, ADD/ADHD, physiotherapy and rehabilitation
for jumping, gentle rebounding and good mood
Movement on the rebounder is suitable for all ages. The high-quality jumping mat and the soft Trimilin suspension ensure a healthy workout which is easy on the joints. At home or in the gym. Depending on the application and body weight, different models have been developed to suit your needs.
Choose between two high-quality suspension systems
Trimilin suspension systems: Perfection without compromise
Elastic steel springs or rubber cable. Both suspension systems have very good joint-gentle qualities and optimal swinging behaviour. For decades Trimilin has been the only manufacturer worldwide to research, to constantly improve and bring to perfection both types of suspension, rubber and steel. The stretching properties and ultimate tensile strength of both steel springs and rubber cables are put to the acid test regularly.
Another option in the Trimilin trampoline range is the patented VARIO system of the rubber cord equipment. This allows you to adjust the rubber cable suspension tighter or softer as you wish, without having to change rubber cables.
Steel springs
Rubber cable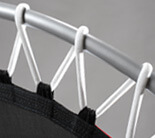 Rubber cable Vario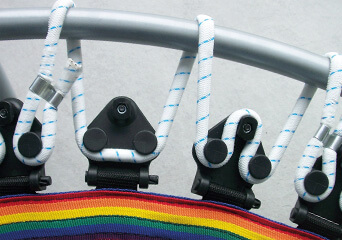 Advantages of Trimilin rebounders
6 different degrees of suspension
high quality
comes with a soft and active-dynamic suspension
longevity and durability
space-saving by fold up legs

German TÜV certified

variability with the Trimilin VARIO system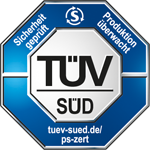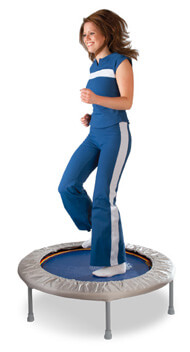 Back-friendly mini trampolines with steel springs

Soft and stretchable mini trampolines with rubber cables
Trimilin-Vivo rebounder with VARIO rubber cables – without frame-cover
Rebounder selection aid
Select the right model in two easy steps


Trimilin rebounders "Made in Germany"
The Original – Superior Quality to the finest detail
Back- and joint-gentle at the same time, the durable trampolines are considered by private users and many therapists, athletes and doctors as the best on the market. Trimilin rebounders are manufactured using the highest quality materials for all component parts. With over 35 years of experience in research and design, Trimilin rebounders are brought to you by the most experienced and reputable manufacturer in Europe
All Trimilin mini trampolines feature a long life specially fabricated jump mat.
Superior quality springs and suspension with excellent craftsmanship.
Trimilin rebounders are available in varying degrees of softness
Trimilin legs – with folding or screwed on legs
All models except Trimilin-junior and Trimilin sport are available with folding legs instead of screwed on legs. The reliable folding mechanism provides for easy storage of your Trimilin behind the door, under your bed or in the car boot.