Trimilin-sport
The rebounder for dynamic workouts
Trimilin-sport with 36 highly elastic springs. Recommended trampoline for endurance training and aerobics. The gentle alternative to training and workouts on hard floors. Enables a high running frequency and fast, dynamic motion.
Endurance training and aerobics
Gentle to joints and spine
Fast dynamic motion
High running frequency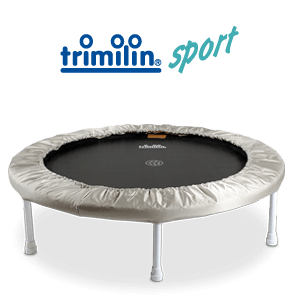 Enables a high running frequency
Technical data Trimilin-sport
Black elastic mat
36 elastic springs
Diameter: 102 cm
High upper edge frame: 24 cm
Weight of the trampoline: 10 kg
Recommended for a body weight of approx. 50 - 125 kg
Softness level 1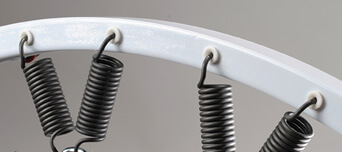 Trimilin-sport special plastic eyelets
Special plastic eyelets prevent the hard spring steel from destroying the frame.
Rebounders with rubber cables

Trimilin-junior Trimilin-miniswing Trimilin-swing Trimilin-superswing