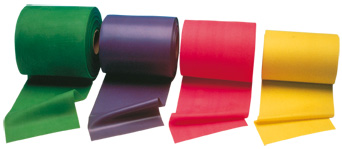 Flexaband
Gymnastic tape: Flexaband With the elastic gymnastic band Effortlessly to the ideal figure!
Posture and back training
Fitness and figure training
Ideal for therapy and rehabilitation
Extremy strechable
Available in four strengths
Extremely elastic natural latex
Printable
Flexaband is available in four strengths
Flexaband has been used successfully in aerobics and gymnastics groups for years. Ideal for figure training, fitness, rehabilitation and back training. You can vary the traction force individually by grasping the band longer or shorter or by combining the individual strengths
The extra strong band (green) is mainly used for strength training.
Strong (violet) is suitable for men and trained women
Women often prefer the medium band (pink)
The middle band (pink) is especially popular with women.
The light band (yellow) is recommended for children or seniors, who have little or no exercise.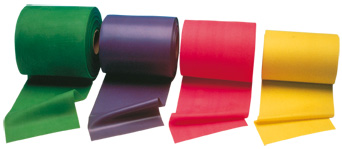 Flexaband care instructions
Flexaband is made of pure latex, a natural material consisting of 100 % rubber. Correct care prolongs the lifetime of your Flexaband. Do not store near heat or direct sunlight, keep well powdered and be careful of sharp nails and jewellery. Before training, always hold the band up against the light to check for nicks or tears which could cause the band to snap whilst in use. Untie before storing. Tight knots can easily be opened in cold water.