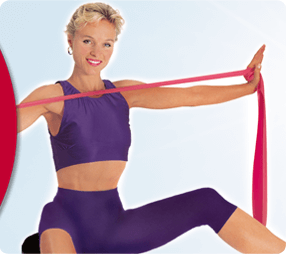 Fitness and body shaping
The fun way to easy body shaping and fitness!
This highly elastic band has been successfully used for years in aerobic and gymnastic classes, for body shaping and fitness, as well as therapy, rehabilitation and back care.
Workout instruction

Easy and effective training with Flexaband
Training with the elastic Flexa-Band is fun and helps to successfully combat the problem areas abdomen, legs, buttocks. This will help you to achieve your desired figure more quickly. At the same time you train strength and coordination. Also ideal for strengthening the back muscles and for targeted muscle building.
Before you train with the Flexaband, it is important to take a few minutes to warm up your muscles. A mini trampoline is also perfect for a short warm-up.
You can walk or jog lightly, swing gently and let your arms and shoulders circle. After a few minutes the muscle tone is increased and you can start flexaband training. Instructions and exercises can be found, for example, inside the flexaband packaging or on the large wall poster.
To increase the degree of difficulty, try the exercises with Flexaband on the trampoline.
Flexaband
Made of pure latex and extremely strechable.
Rollpack
Flexaband to unroll.
FlexaClip
Flexaband with FlexaClip.
FlexaFix
Handle loop FlexaFix.